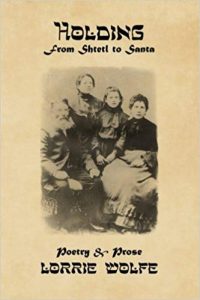 Holding: from Shtetl to Santa
My chapbook of poetry and prose, Holding: from Shtetl to Santa, explores themes of family, immigration, and follows my cultural journey ranging from the biblical exodus from Egypt up through Ellis Island and my marriage to Santa Claus. (Yes, I still believe in Santa!) It was published by Green Fuse Press in 2013 as part of their Women of the Wisdom Years series.
Holding: from Shtetl to Santa is available from Amazon or from me. Please use the Contact Page if you'd like to purchase the book directly.
---
from "Eulogy" 
…There, under the gray approving gaze of ancestors,
the long-gone grandparents,
the line from the old country,

We closed the drapes
and covered the clocks
in that room where time rested
and held its breath

And then 
	began again.